It's a couple of days after Christmas. The mornings and evenings are blurring a bit, over-eating, spending time with family, reading. Yesterday we went for a walk in the mountains near-by, ending at Bay Lough. It's a dark and ominous teardrop shaped lake, hidden up in near the Vee pass. This lake is the junction of three National Waymarked Trails; the Tipperary Heritage Way, East Munster Way, and Avondhu Way. I smiled seeing Elvis on this small outing. I can't believe we've been doing this project for another year!
This year we walked 16 trails, bringing our total to 35 out of 42 National Waymarked Trails completed. Along those 16 trails we walked roughly 1,450km - bringing our total to over 3,000km! As I write this, we only have 7 trails (totalling about 840km) left to walk. The 16 trails we did this year brought us through 14 counties, and took us almost 6 months to do (March - August). During that time we became Great Outdoors Ambassadors, and Leave No Trace Members. We've written 32 blog posts and made 45 videos - it's been a busy year!
The photo above features our nine most popular photos on Instagram this year, so I thought I'd look back on these photos, and maybe add in a few other personal favourites…
No. 9 - Nephins on the Western Way
Co. Mayo
I remember sitting in the sunshine where we took this photo, trying to hunker down enough behind my backpack to get some shelter from the intense wind. We were on our way down to Westport, where we were going to take a rest day and hopefully find some gel insoles or something - anything - to stop my feet from burning in my new boots. I personally had a hard time walking this trail, but looking back on the photos I am very tempted to go back and explore it a little more, maybe try out the Bangor Trail.
Western Way Mayo Blog Link.
No. 8 - Birthday Celebrations
When we started walking there was no way of knowing how long this project would take, and how it would evolve. For my birthday this year I decided I wanted to head home and bring my family out into the mountains and share my love for the outdoors with them. We climbed a local mountain, and took fun photos as the clouds flitted past.
On my birthday I also released a blog post that I'd been researching and writing for quite a while - The Unwritten Rules of Wild Camping. Within a week it was the most read piece on our whole website, and has only grown from there. It was also through this piece that we got talking to Leave No Trace Ireland and becoming official members.
No. 7 - The Length of the West
Ballycastle, Co. Mayo
We use a lot of the free maps available through the Irish Trails website, printing out all the separate sections and building a bigger map as we go. The night before we started the Western Ways we were staying in the hostel in Ballycastle, watching the rain run down the windows. We decided to do some rough planning for the walk ahead of us, and as we started laying all the maps out we realised the maps were probably going to be longer than me. It's not the longest trail we've walked, but to see it all laid out beside you makes all the kilometres feel a lot more real.
Western Way Galway Blog Link.
Derrybeg, Co. Donegal
Have you ever heard of Saint John's Eve? We hadn't, until we were walking along the beach between Bunbeg and Derrybeg in Donegal, watching a vibrant sunset. As the light turned to dusk, huge pillars of smoke started to rise, spread out across the landscape like beacons. I've never seen anything like it. As we reached the streets again all the lights flickered out - the power had been cut. People wandered silently, the pin-points of far off fires dancing on the hills.
Slí an Earagail Blog Link.
No. 5 - Where are we now?
When we posted this map update we'd just finished Donegal - since then we've coloured in the Western Ways through Mayo and Connemara, and the Kerry Way, the largest southerly peninsula we had left to do. To say I'm excited to get to mark off the last seven trails would be an understatement. The seven we currently have left are:
Offaly Way
Slieve Bloom Way
Burren Way
East Clare Way
Beara Way
South Leinster Way
Wicklow Way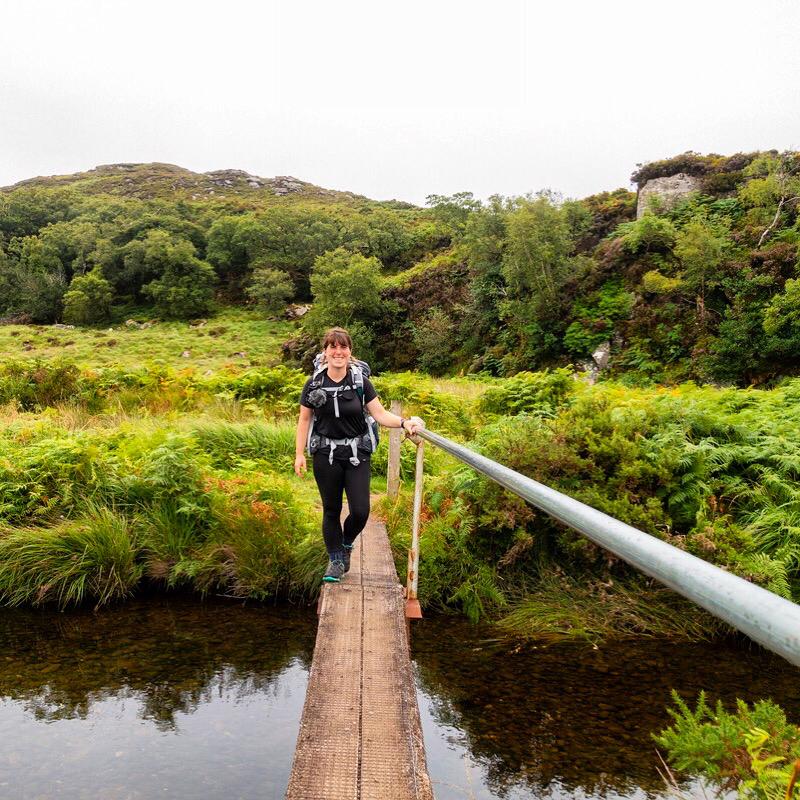 No.4 - finishing the Kerry Way!
Near the Black Valley, Killarney, Co. Kerry
The last trail we walked this summer before we ran out of money was the Kerry Way. It was the longest on our list, so I'm so glad we got to tick it off before we had to stop and get jobs again until we can afford to go back out and finish the project. We were also pretty exhausted at that point, so taking the winter off hasn't been the worst thing so far.
The Kerry Way Video.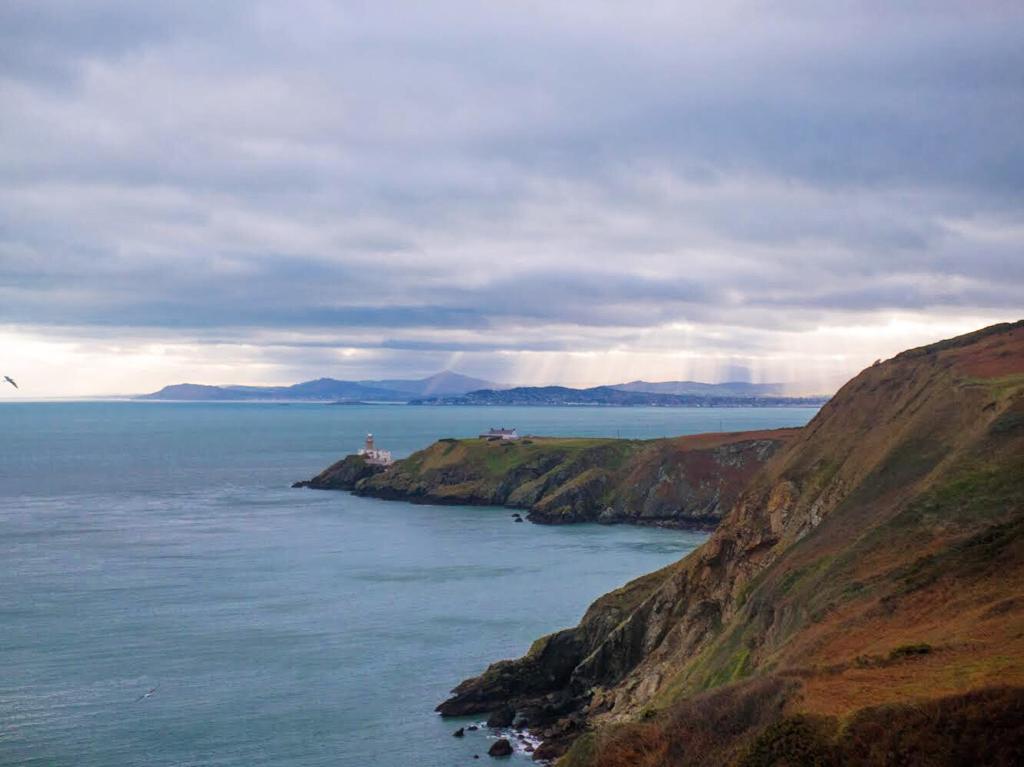 Howth, Co. Dublin
This was the first trail we walked after I fractured my foot! Four months of healing, strengthening and stretching before we went out on that walk, and now that it's over a year later I can't believe how well it's healed/
Howth Head Video.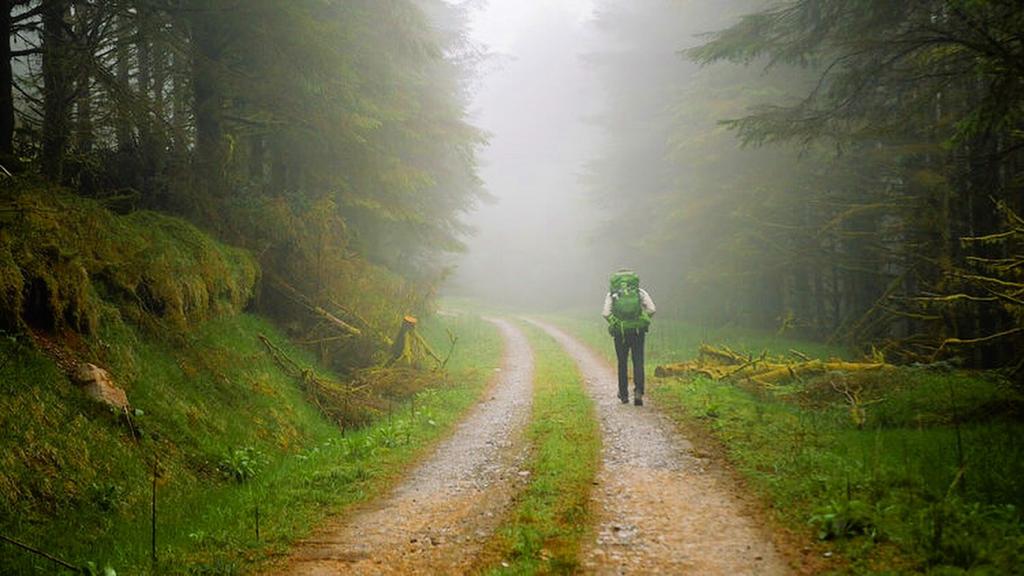 No. 2 - Carl on the Slieve Felim Way
Nothing like an early misty morning start. We'd accidentally walked much further than planed on our first day of the Slieve Felim Way, camping high up on Keeper Hill. When we woke up the next morning there were clouds streaming past. As we slowly descended the wind lessened and we were left wandering in a hazy white world.
Slieve Felim Way Blog Link.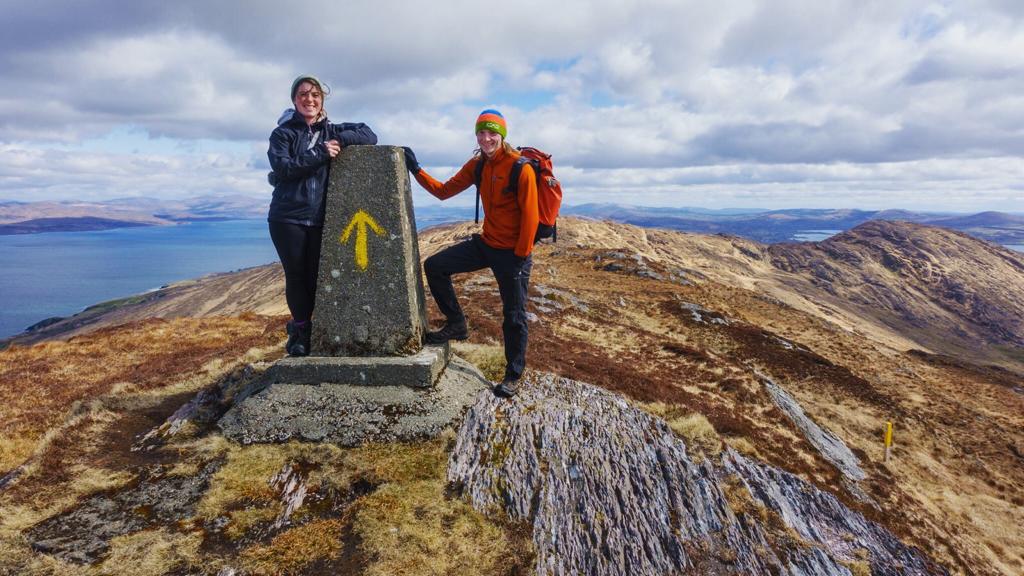 No.1 - Carl and Ellie on the Sheep's Head Way
Sheep's Head Peninsula, Co. Cork.
A breath-taking trail, we really enjoyed walked earlier this year. However, when we shared this photo recently we were actually announcing that we'd been nominated for the Outsider Awards! We've been nominated for the Best Newcomer or Breakthrough Achievement, along side some other amazing outdoor people.
Photo: Peter Clarke
Sheep's Head Way Blog Link.
And some personal favourites …
Here's the two of us - whenever I go looking for one with us both I'm always surprised by how few we have. So a small personal goal for 2019 is to have more photos with the two of us in them.
A special mention to Donegal …
For being one of the most beautiful places on the planet. We spent about 3 weeks up in Donegal walking about 350km, and it was incredible. When the bad weather rolled in it would hit with a bang, but it always passed - and I the sunshine more than made up for it. We also met some amazing people in Donegal - an extra thank you to Leah and Fly!
Arranmore Island Blog Link.
And Leave No Trace Training!
As I mentioned above, we became Leave No Trace members this year - and through that we had the most amazing chance take part in their training programmes and spreading their important principles! We have the most beautiful planet, and we really need to care for it. For those who are wondering - What is Leave No Trace?
When we stopped walked in September this year we were really hoping to get a few more of the trails done before the end of the year - with only seven left it all feels so close and so far away! We made a video not long after we'd found somewhere to live talking about the walking we'd done so far this year, and in it I can see how much I wanted to try and finish it all before the new year.
Now that the year is actually ending I was worried I would feel stressed or sad that we hadn't yet completed it all, but I think I'm just feeling more motivated for next spring/summer. I've had the chance to write about our adventures for Intrepid Magazine, the Mountain Log, and the incoming Mountain Views Annual (February 2019). I've also started a Research Masters. Carl is working on some exciting projects for Tough Soles for the new year. There's too much to be happy about to let the stress and doubts have any room.
Finally, I'd really like to thank all our Patrons for supporting this project. This support has been incredible, I don't know how we would do it without you.
Happy New Yearventures to you all!
Thank you Patrons!
Both past and present…
Marcus Cavanaugh, Werner Lange, Jen Carey, Padraig Berry, Bruce Byall, Waymarked Trails App, Renate Lange, Seanie Ryan, Derek Doran, John McCarthy , Garret Cahill, Sascha Dalecke, Nigel McMorris, Stephan & Erika, Delia Lange, Chris Deering, Jodie Gardiner, Peter Clarke, Carolyn O'Dwyer, Patrick Berry, Tempvs Frangit, Alan Grant, Colin Whittaker, Terry Rogers, Declan Jennings, Clare Coyle, Maureen Leahy, Angela Berry, Lio Benz, Mike MurphChops, Katherine Gypson, Shilei Z, John Healy, Paul Meagher, Foil, Arms & Hog, Wassim Derguech